CHALLENGER LEARNING CENTER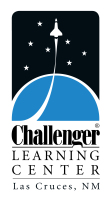 Y​​​​​​​
SUMMER SPACE CAMP
Support your child's academic enrichment in STEM through participation in Space Academy with the Challenger Learning Center of Las Cruces

s
aca
Micro Explorer academy (1 Day)​
​​Students will be immersed in the roles of an astronaut, engineer, scientist, mathematijcian, artist, and researcher to solve real-world problems as they investigate the role of planet Earth in our solar system.



$45.00 per individual date or register for all 4 dates for $165.00​

​​Cultivate the skills needed for college, career, and citizenship readiness through completion of hands-on experiments and integrated conceptual understanding of STEAM concepts.



Junior Space Academy (4 Days)​
​​Scientific field experience through optional field trips in July.



Academy 1                             June 12 - 15
​

​​​​​​​Challenger Learining Center Mission

Engineering Design Challenges




Kinetic Space Art




Asombro Institute for Science Education Programs




Virgin Galactic Presentations



DACC Computer Engineering 


Academy 2                             June 26 - 29
​

Breakfast and Lunch provided by City of Las Cruces Lunch Program
Academy 1                             June 5 - 8
​

Open to all incoming 1st - 8th grade students in New Mexico
 Academy 2                           June 19 - 22

LCPS Professional Development Center
505 S. Main St. Suite 400

​Las Cruces NM 88001

All camps are held 9:00 am - 3:00 pm
Early Drop Off 8:00 am - 9:00 am for

$5.00 additional a day

Late Pick Up 3:00 pm - 5:00 pm for

$10.00 additional a day

Virgin Galactic
Gateway at

​Spaceport America